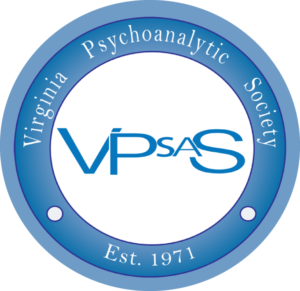 Friday evening, April 28, 2023
and
Saturday morning, April 29, 2023
Virginia Psychoanalytic Society
(An Affiliate Society of the American Psychoanalytic Association)
presents
The Annual
Vamik D Volkan, M.D. Lectureship
Theories and Magical Sexual
Myths of Childhood
and
The Giving of Death
by
DR. SOPHIE DE MIJOLLA-MELLOR
Professor of Psychoanalysis, University of Paris 7 – Diderot La Sorbonne, Paris
Zoom
Enter Meeting Number:  527-999-5540
(no password required)
Gratis unless you would like continuing education credits (pending), in which case the fee is $12.
UP TO 5 CME or CEU Credits available (pending)
REGISTRATION AND FEES –
RSVP TO Keyhill Sheorn, MD  804-240-1095  / [email protected]
3801 Commodore Point Place, Suite 200, Midlothian, VA 23112
SUMMARY OF THE PRESENTATIONS
FRIDAY
Via Zoom 527-999-5540
Theories and Magical Sexual Myths of Childhood
Time: 6:00 – 6:30 p.m. Socializing
6:30 – 7:30 p.m. Lecture
7:30 – 8:30 p.m. Q & A
8:30 – 9:00 p.m. Socializing
Description
Professor de Mijolla-Mellor will reconsider infantile theories about sexuality by expanding on typical representations prior to Freud's description of "infantile sexual theories". The child does not seek only to understand mysteries but to enjoy them. Hence, the child invents secret words which will have the magic power to evoke the mysteries.
Two clinical examples will be given.  Both are exceptional because even though they demonstrate common childhood memories, these myths are rarely communicated spontaneously in analysis. They are often covered by infantile amnesia, so when they do survive it is in the preconscious, and their recollection does not create an effect of revelation but rather resembles the exhumation of a more or less disinvested old thought.
Objectives:
The speaker will
Explicate the history certain notions: child sexual theories as described by both Freud and Jung
Demonstrate the meanings and uses of archaic thoughts
Illustrate regression in the clinical setting that affects analytic listening
Reveal the importance of original fantasies
Show how magical thinking affects both children and adults
References:
DeMijolla-Mellor, S. (1995). Family murder: A psychoanalytic study about Agatha Christiel.  Paris: Dunod. From: Psychismes (Translated into Italian by Borla).
DeMijolla-Mellor, S. (2002). The need to know: Théories et mythes magico-sexuels dans l'enfance. Paris: Dunod. (Translated into Italian by Borla).
Bonaparte, M., Five Notebooks
Freud, S. (1905). Three Essays on Sexuality. Standard Edition.
S. (1909). "Aus der geschichte einer infantiler neurose"
Correspondence between Freud and Jung
SATURDAY
via Zoom  527-999-5540
The Giving of Death
Workshop 9:00 a.m. – 12:30 p.m.
Description
Giving death is as metaphysically unthinkable as giving life. In both cases, the individual, within his modest limits, rises to the level of a biological process which escapes him and to which he, himself, is subjected as the link in a chain whose origin and end he will never know.
Psychoanalysis can bring elements of comprehension to the paralysis of the thought that generates the "crime,"  of giving death – in order to aid reintegration.  Empathy is necessary to judge such comprehension and, if necessary, to interpret defense or offer support.
Professor Mijolla-Mellor will discuss three situations to illustrate and clary repressed homicidal impulses, usually inaccessible, in those who commits the "murderous act" whose nature and scope are only measurable afterwards.
In addition, insofar as the writing of history takes into account not only geopolitics, economics, and human factors (such as passionate adherence to the leader or all forms of fanaticism), psychoanalytic theories can attempt to explain the phenomena of wars or massacres. Thinking about emotions in politics is a task to which psychoanalysis contributes, alongside studies based on a psychosociological and linguistic approaches.
Objectives:
The presenter will
Explicate homicidal impulses in normal and abnormal situations
Define fanaticism as it occurs in individuals and groups
Illustrate how the clinician can have empathy with the murderer
Demonstrate how psychoanalytic theories can help explain War among otherwise normal individuals
References:
S. "Zeitgemasses uber Krieg und Tod"
S (1920) "Massenpsychologie und Ich-Analyse"  i.e., Group psychology and the analysis of the ego. Standard Edition
S. & Einstein, A. (1933). "Warum Krieg?" – i.e., the "Why War" Correspondence between Freud and Albert Einstein at the behest of the League of Nations before Hitler became Chancellor of Germany later that year.
DeMijolla-Mellor, S. (2011). The Given Death:  Essay regarding  psychoanalytic understandings of murder and war.  Paris: PUF; Collection Quadriges-essais débats.
About the Presenter 
Sophie de Mijolla-Mellor is a psychoanalyst and a philosopher. She likes the philosophy of Spinoza an couples that with the analytic theories of Freud and Piera Aulagnier. As a university professor, she has taught and conducted research at the Sorbonne in Paris for forty years.
She has engaged in four fields of analytic research: First, she has studied the "pleasure of thought" how this is linked analytically with the concept of "sublimation." She has proposed a definition of sublimation as a need of healthy ego functioning.
Her second interest has concerned the need to know and the need to believe.
One of her first papers in 1980 was entitled "Vision and Enigma," and owed much to Kurt Eissler's book on Leonardo da Vinci, which she had just translated.
In "The Need to Know," she introduced the notions of "collapse of the fundamental sense of certainty" and the "magico-sexual myth." This area of her research has stimulated other researchers who study paranoid delusions as they  defensively reduce doubt in the fields of ideology, politics and religious fanaticism.
The third area of her research concerns psychosis, more specifically paranoia, and the problem of cruelty in perversion and psychopathy.
Finally, her fourth area of interest has been violence in society: murder, war, tyranny, and arrogance.
Continuing Education (pending) – $12
This activity has been planned and implemented in accordance with the accreditation requirements and policies of the Accreditation Council for Continuing Medical Education (ACCME) through the joint providership of American Psychoanalytic Association and the Virginia Psychoanalytic Society. The American Psychoanalytic Association is accredited by the ACCME to provide continuing medical education for physicians.
The American Psychoanalytic Association designates this Live Activity for a maximum of 5.0 AMA PRA Category 1 Credit(s)™. Physicians should claim only the credit commensurate with the extent of their participation in the activity.  IMPORTANT DISCLOSURE INFORMATION FOR ALL LEARNERS: None of the planners and presenters of this CME program have any relevant financial relationships to disclose.  For further information, contact Eli Zaller, M.D. at [email protected]  or 804-288- 3251.
Up to 5.0 CEU's are available for Licensed Clinical Psychologists and Licensed Professional Counselors in accordance with the applicable requirements of the Virginia Board of Psychology.  There is no extra fee beyond the cost of the meeting.  Eligibility for credit is contingent upon the Virginia Psychoanalytic Society's receipt of the forms verifying attendance, as signed and validated by the monitor at the meeting.  For further information, contact Margaret DuVall, Ph.D. at [email protected] or 804-840-3592.
Up to 5.0 CEU's are available for MSW's pending approval by NASW VIRGINIA. The application costs are included in your registration fee.  MSW CEU requests will be sent to NASW VIRGINIA by the Virginia Psychoanalytic Society. For further information, contact Susan Stones, LCSW [email protected] or 757-622-9852×207.
IMPORTANT DISCLOSURE INFORMATION FOR ALL LEARNERS:
IMPORTANT DISCLOSURE INFORMATION FOR ALL LEARNERS: None of the planners and presenters for this educational activity have relevant financial relationship(s)* to disclose with ineligible companies whose primary business is producing, marketing, selling, re-selling, or distributing healthcare products used by or on patients.
*Financial relationships are relevant if the educational content an individual can control is related to the business lines or products of the ineligible company.    -Updated July 2021-
PLEASE NOTE:
For attendance purposes, on the day of the presentation email your name and home/office emails to Dr. Zaller ([email protected]).  Within 10 days of the presentation, please submit the Evaluation Form to Dr. Zaller.  The form can be found on https://vpsas.org/