Monica Carsky, Ph.D. was presented with a plaque and engraved mug for her April 29 and 30, 2022 presentation of the Annual Vamik Volkan, M.D. Lecture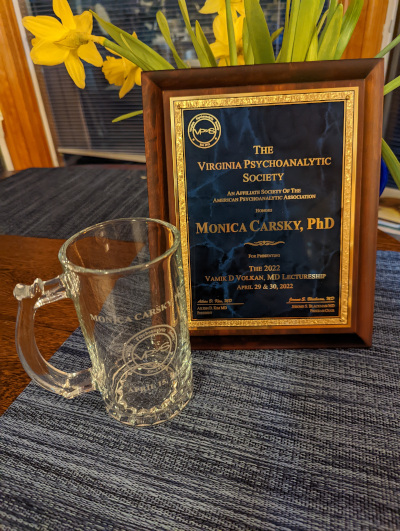 Dr. Blackman virtually presented a plaque to Cristian D. Ciora, MD for his March 18, 2022 presentation to the Society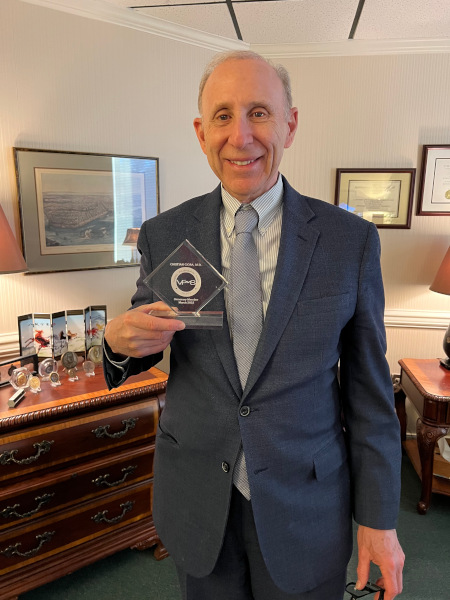 Dr. Blackman virtually presented a mug to Cristian D. Ciora, MD for his March 18, 2022 presentation to the Society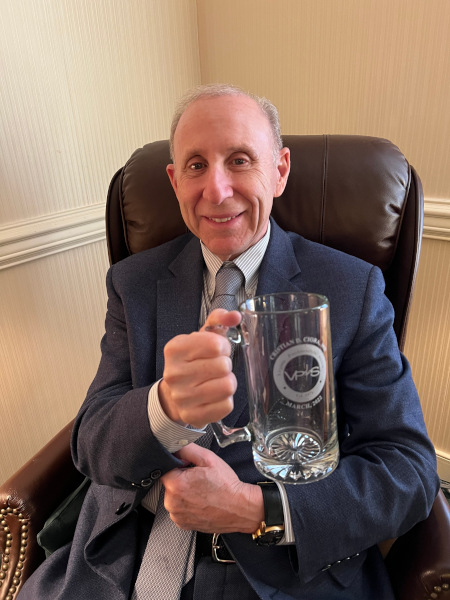 Cristian Ciora, MD, received an Honorary Membership plaque during his virtual presentation to the Society on March 18, 2022.  The plaque was presented by Drs. Jerome Blackman, Vamik Volkan, Andrew Van Slyke , and John Russell, as well as Janet Schiff, LCSW.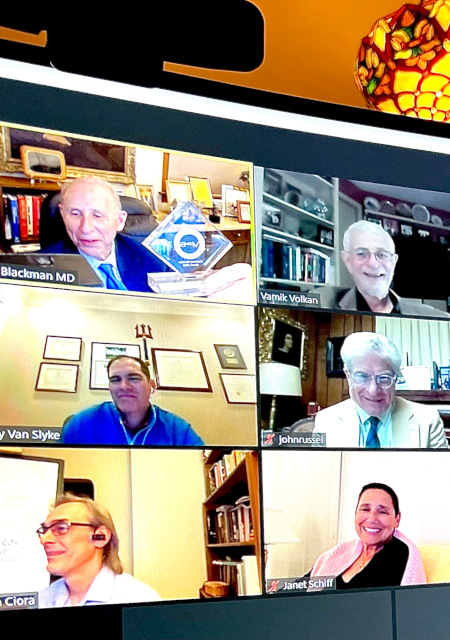 Dr. Blackman virtually presented a plaque to Dr. Harold Blum for his October 22, 2021 presentation to the Society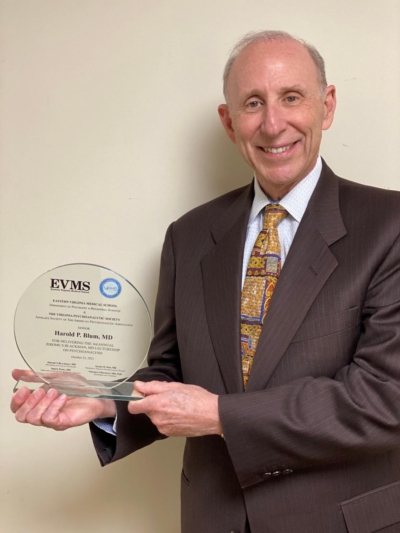 Dr. Jerome Blackman presented the honorary VPsaS mug to Dr. Nathan Kravis at the October 2018 meeting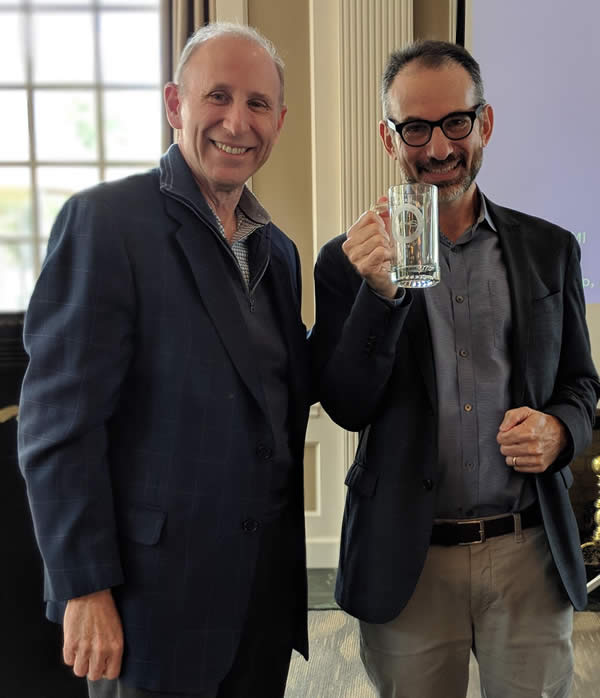 Dr. Nathan Kravis received honorary membership in VPsaS from Dr. Kathleen Dring after his presentation in October 2018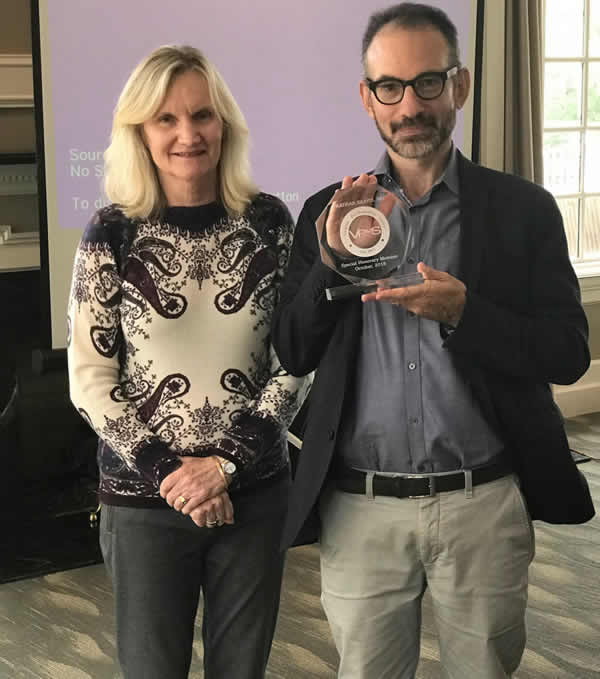 VPsaS Annual Vamik Volkan, MD Meeting April 2018
Marriott Ford's Colony in Williamsburg, VA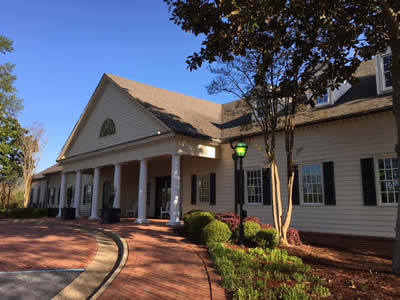 Keyhill Sheorn, MD, William Rheuban, MD, Bonnie Shopper, and our guest speaker, Moisy Shopper, MD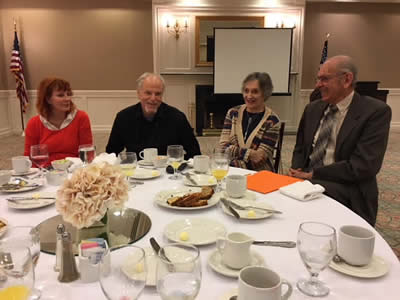 Aileen Kim, MD, Eli Zaller, MD, Keyhill Sheorn, MD, William Rheuban, MD, Bonnie Shopper, Moisy Shopper, MD, Chair, "Jock" Russell, MD, David Epstein, Psy.D., and Janet Schiff, LCSW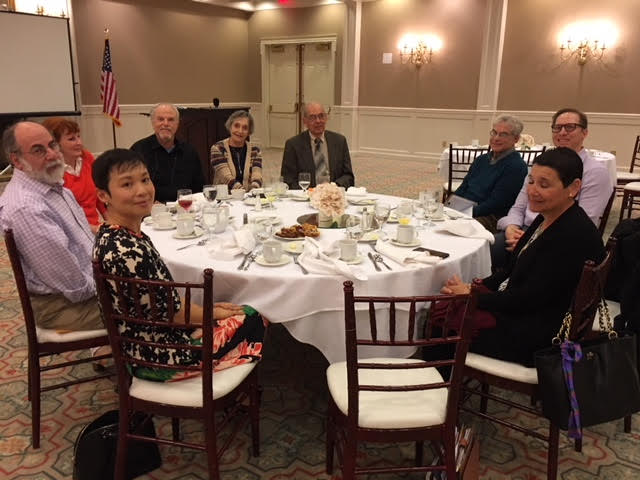 Janet Schiff, LCSW and Kathleen Dring, PsyD
April 2018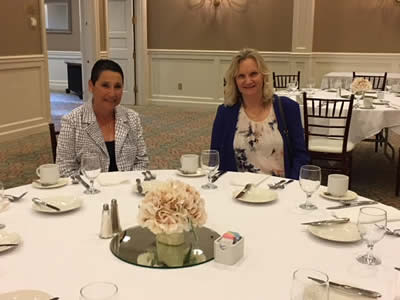 Moisy Shopper, MD, guest speaker, at VPsaS Annual Meeting with President, Kathleen Dring, JD, Psy.D.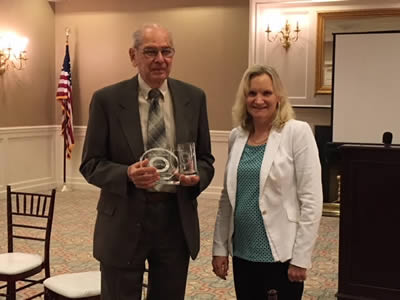 Meeting at the Farmington Country Club in Charlottesville, VA April 2017 with speaker Dr. Ira Brenner
Dr Blackman with Hai Tao and Yan Shilu , (2 of about 95 students) with their certificates after 5 days of training w Dr. Blackman in Shanghai through Xin Meng. May1, 2018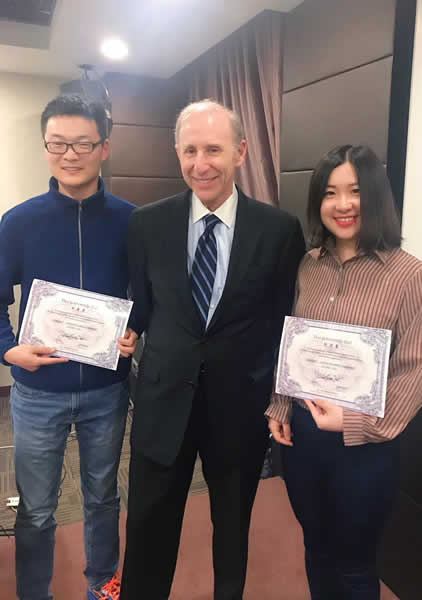 Jerome S. 
Blackman
, MD at the Navy Medical Center-Portsmouth Department of Psychiatry graduation on June 8, 2018.  Gail 
Manos
, MD was awarded the 27th Jerome S. 
Blackman
, MD Teacher  of the Year award.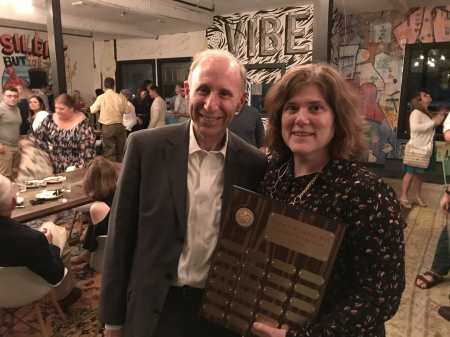 Dr. Kathleen Dring, PsyD, President, VPsaS at the Annual Meeting in Williamsburg, Va.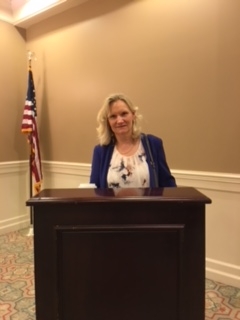 VPsaS Members Make Presentations at the APsaA 2017 National Meeting held in New York January 18-22, 2017
Susan Hobbs Stones, MSSW, LCSW, FIPA presented on Psychosomatic Elements  of Compulsive Overeating: An American Dilemma at the Discussion Group on the Psychoanalytic Treatment of Patients with Psychosomatic Symptoms.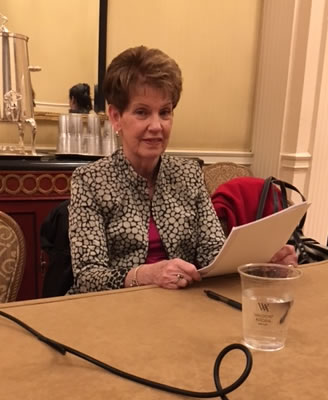 Fonya Lord Helm, PhD, ABPP and Maurine Kelly, PhD, FIPA  presented Altered States of Awareness. Both are members of the Contemporary Freudian Society. Their discussion focused on reported near death experiences occurring during cardiac arrest and other life threatening experiences.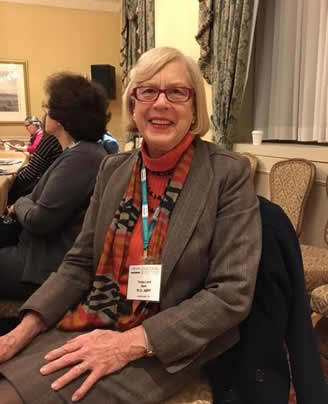 Dr Jerome Blackman,Professor of Clinical Psychiatry at EVMS (in Cornell doctoral regalia), with his friend, Dr Colm Whelan, Professor and past Chair of Physics at ODU (in his Cambridge DSc regalia) before the faculty March at ODU graduation ceremony in December 2016.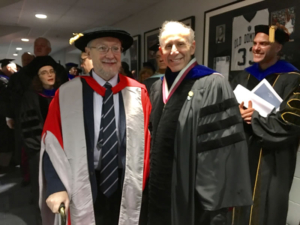 Dr Keyhill Sheorn, president of vpsas, giving coveted vpsas mug to Dr Glen Gabbard.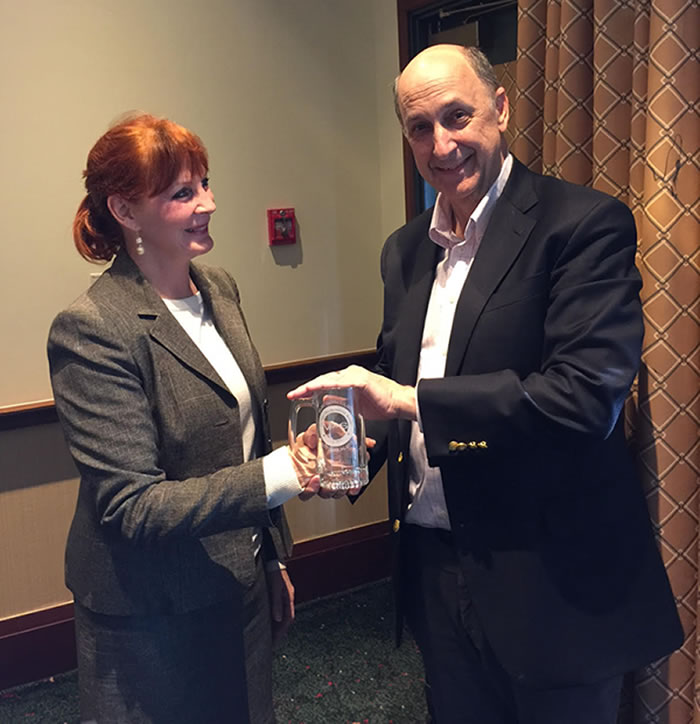 Dr John Andrew Van Slyke, DFAPA, psychiatrist and psychoanalyst member of vpsas, receives his Captain's shoulder board from his father and family, Sept 2, 2016 at NavMedCenter-Portsmouth.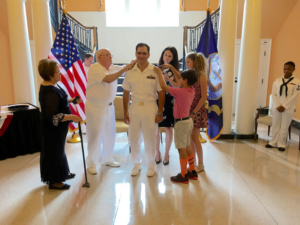 Dr Jerome Blackman with Dr Vamik Volkan, at reception at Waldorf – Astoria just after Dr Volkan received the Sigourney Award, the highest honor given by the American Psychoanalytic Association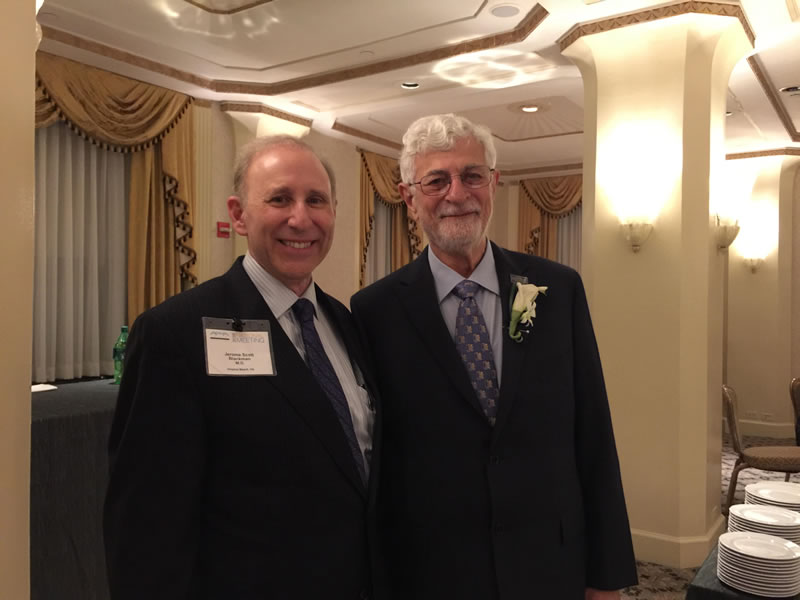 Dr Jerome Blackman, Psychoanalyst-Member of vpsas, with Miller Kerr, MD, graduating psychiatry resident, after receiving Clinical Faculty Teaching Award at Eastern Va Med School, Jun 2016.